Parachute Pete
A downloadable game for Windows and macOS
Parachute Pete is a game by grllle and Peter Wood,
with voice acting by Marc Barnes.

Made for the A Game By Its Cover 2016 Jam.
This means: somebody made a box cover for a fictional game and we made the game for the cover...
This awesome jam runs for a month and although we could only spare a few days we had quite some fun with it.
How to play
You control a weaponless plane confronted with 5 military aircrafts of the D.T. category. The slightly immature goal is, to destroy their jets by dropping paratroopers into them.
move plane arrow keys, analog stick
drop 10 paratroopers space, A button
start game return, start button
Super awesome inspirational fake box cover by Christopher Bird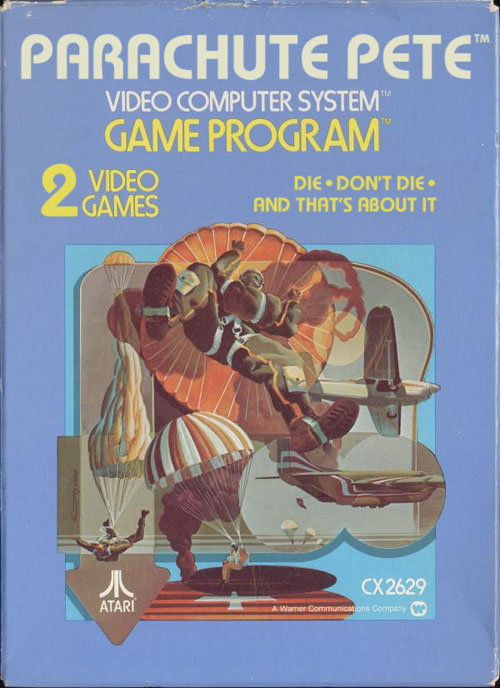 Music:
Cocaine Girl by Gorilla Chief
When The Mockingbirds Are Singing In The Wildwood by Frank C Stanly
Sfx (via freesound.org):
Cheeseheadburger
Kolczok
Smidoid
Zimbot
Chriskalos
All music and sfx under cc licence
A big thank you to everyone!
Woodland Barbarians 2016
Made in less than a week.
Comments
Log in with itch.io to leave a comment.
Oh man, those blood trails on the hull of the ship... So gruesome, but so well-executed. Impressive entry overall!
Love it! Great voice acting, too!
*nods* this is the best possible use of that cover image.
The soundtracks plus the cartoon voices make the game.
The commander's voice (acting, effect and volume) could use some work but is a great start. :)
Thank you very much for your thoughts and the gameplay video! Glad you had fun :)

You're absolutely right about the voices, additionally there's so much i would've loved to polish but we basically only had a weekend to spare.
so far, i havent figured out anything besides dropping people into the jets ;-;
This is the rather childish but main game mechanic, so you got it all :)

Jets get destroyed by dropping 10 troopers into them, planes are brought down by destroying all there jets.
Oh ok... yeah just figured it out because i wasn't listening to the audio, so didnt know what to do xD
if i get time, i'll post some gameplay of it... my channel is www.youtube.com/MjFarquhar_Official so you can check it out anytime you want :)